Let's Talk... Hospital Visiting - Engagement Report
The Healthwatch 'Let's Talk...' project in Leicester, Leicestershire and Rutland is looking at how the changes that have been made to health and social care services throughout the COVID-19 pandemic, have affected patients and their loved ones.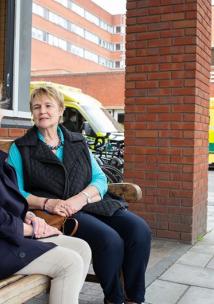 Our recent 'Lets Talk… Hospital Visiting' engagement asked people in Rutland how they felt about changes to hospital visiting and the impact it had on them. You can read the key findings below or follow the link at the bottom of the page to read the whole report.
The limitations on hospital and care home visiting are understood to help limit the spread of Coronavirus and in turn reduce the strain on the NHS but they also impacted friends and family of patients. The subject is emotive and as you will see, we received some in-depth feedback.  We are appreciative to those who  took the time to share their story.
One story relayed to us during the engagement, showed the depth of anxiety and distress caused by inconsistent communication between hospital and family of an inpatient. With permission from the participant, we were able to share the details of the experience with the hospitals concerned, part of Northwest Anglia Foundation Trust. In response, the Trust acknowledges that patient communication has been one of the main challenges brought about by the COVID-19 pandemic and there is need to look at existing processes and new ways to make patient communication better, and to facilitate appropriate and relevant daily communication regarding the patient's health and wellbeing.  
The feedback from the Rutland resident will certainly help us to review our processes and will also be fed back to the appropriate sources within the Trust.
Key findings:
Family members feel shut out of hospitals and care homes, unable to be involved in and oversee care of a loved one. This can have a negative effect on visitors' wellbeing.
Visitors have appreciated other ways of keeping in touch with their loved ones, such as using iPads and the 'Letters to Loved Ones' service, but that doesn't replace face-to-face contact, especially in terms of a patient's last days.
Communication with health professionals was not always positive or regular. This can lead to the families feeling more isolated from the patient.
New visiting guidelines are not flexible enough for family members and carers who are working or have other commitments. Having only daytime visiting slots and one designated visitor can be a strain on friends and family, especially when the patient may be in hospital for many weeks.
It has been well documented that visits from loved ones can be beneficial for the patient and this study shows it is also good for visitor peace of mind. Restrictions of face-to-face visiting can mean key parts of the patient story are missed or overlooked.