Annual Report 2019-20 - Guided by you
During 2019-20 we continued to assert ourselves as an independent champion to put Rutland people at the heart of decisions as the health and care environment moves towards an integrated care system and single strategic commissioning body.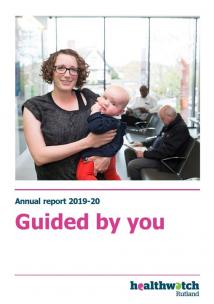 Highlights of 2019-20 included:
Gathering people's views about the local implementation of the NHS Long Term Plan and sharing them widely with providers and commissioners of care. 
Asking evidence-based questions and monitoring developments about the proposed reconfiguration of acute services at University Hospitals of Leicester NHS Trust. 
Championing the desire of Rutland people to have more care closer to home, including raising issues with the Clinical Commissioning Group about people's difficulty accessing urgent care and minor injury services at Rutland Memorial Hospital and confusion about how the walk-in service operates.
Working with Rutland County Council and neighbouring areas and to find out about the health and care needs of the Armed Forces community.
Collecting experiences of people who have called for an emergency ambulance to share with East Midlands Ambulance Services and regional Healthwatch colleagues. 
So, it has been a busy year. Our volunteers play a huge part in extending our reach, and we thank them all for the time and help they give us.
We have been particularly keen to involve people in our work who do not always push themselves forward to be heard. By working very closely with support groups run by the voluntary sector such as Age UK and Rutland Out of Hours Club we have helped people living with dementia and people with learning disabilities and autism to voice their experiences of care and their aspirations for care in the future.
We may be a small county but, by working together, we can and do send out some powerful messages.