Health and social care needs of the Armed Forces community in Rutland, Harborough and South Kesteven – New report published
A report of the views and experiences of people with a connection to the British Armed Forces living or stationed in Rutland, Harborough or South Kesteven has now been published.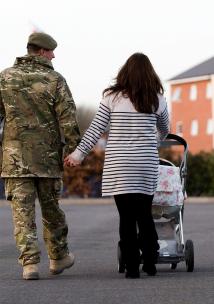 Members of the Armed Forces community (including people serving in the Armed Forces as regulars or reservists, volunteers, ex-forces members (veterans) and family members of past and present service personnel) were asked to tell us more about themselves and their health and social care experiences and needs. Over 700 people responded to a survey developed by Connected Together CIC, Rutland County Council, Harborough District Council, South Kesteven District Council, which was shared and promoted by Healthwatch Rutland.
The report recommendations call for better access to suitable mental health help for veterans and serving personnel, further support with transition to civilian life when people leave the Armed Forces, support for families of serving personnel who may be lonely or isolated, and greater awareness of the Armed Forces Covenant.
The report and recommendations are helping to inform the Armed Forces Covenant in this area so commissioners and service providers can address these needs and improve local services for individuals and families who are connected to the Forces.
Prior to the report launch, a partners workshop took place to generate ideas about how the valuable feedback and recommendations could be responded to and acted on. The outcomes from the workshop are included in the report as an appendix and work on the actions has already commenced.
A special launch event for the report was held, which received the backing of the Government's Veterans' Minister. Johnny Mercer MP, the Minister for Military Personnel and Veterans in the Ministry of Defence and Minister for Veterans' Affairs in the Cabinet Office, offered his support via video. In his video Johnny Mercer MP said:
"A massive thank you for what you've done on behalf of the MOD (Ministry of Defence) and the whole veterans' community in your efforts to really understand the challenges and make the transition easier for people who are leaving [the Armed Forces] and make sure the Armed Forces Covenant is honoured in your part of the world."
Rutland County Council, Harborough District Council and South Kesteven District Council have all signed up to the Armed Forces Covenant which is a formal commitment to support the Armed Forces community.
Armed Forces Covenant Survey for Rutland, South Kesteven and Harborough report, Oct 2019