Information on Coronavirus
Read the latest advice and information from NHS England and Public Health England about the Coronavirus.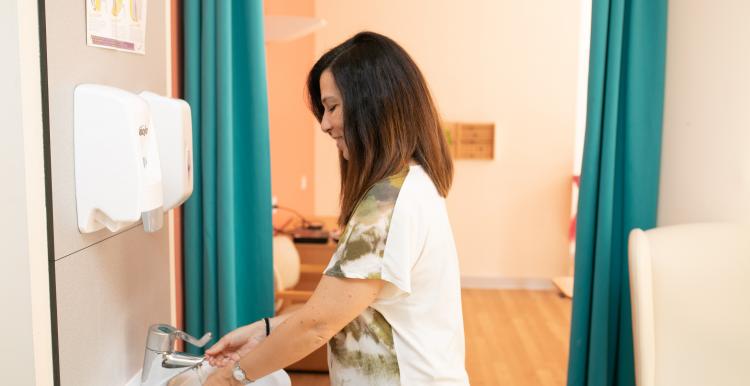 Last updated: 20/04/2021 
This page will be updated once further guidance is available. To check the latest Government guidance, please visit: https://www.gov.uk/coronavirus
Roadmap out of lockdown
The 'COVID-19 Response - Spring 2021' provides a roadmap out of the current lockdown in England and sets out how the government will continue to protect and support citizens across the UK:
COVID-19 Response - Spring 2021 summary - Gov.uk  
Changes from 12 April in England
Venues offering outdoor hospitality such as pubs, cafes and restaurants can reopen to serve food and drinks to customers sitting outdoors. Those who visit one of these venues will have to check in on the NHS Test and Trace app, or provide contact details. Groups will still be limited to six people or two households. 
Gyms, indoor swimming pools and other indoor exercise venues can reopen. However, group classes will still be prohibited. Sauna facilities and steam rooms will remain closed. 
Personal care services, such as hairdressers, nail salons and spas can reopen
Zoos, theme parks, drive-in cinemas and performance events can resume
Members of the same household can holiday in England in self-contained accommodation. This includes Airbnb properties, cottages and campsites. Hotels and B&Bs will remain closed. 
Foreign holidays will still be banned until 17 May at the earliest
Public buildings such as libraries and community centres can reopen
Weddings attended by up to 15 people can take place
Funerals can continue to take place with up to 30 people in attendance
The number of care home visitors will also increase to two per resident
The rules from part 1 still apply as below.
'The rule of six'
From 29 March, outdoor gatherings of either 6 people (the rule of 6, i.e. yourself and 5 others) or 2 households will be allowed.
You may meet, still using the 2 metre social distancing rule, in public spaces including country and recreational parks and other green spaces. You may also meet, socially distanced, in private gardens.
Socialising indoors is still not permitted. Although the rules may be relaxing, you still need to limit and be careful with those around you. The evidence shows us that meeting outdoor at a distance makes transmission of the virus much more difficult, compared to gathering indoors.
It is important that you provide your own food and drinks and do not share with others. You must also still adhere to the hands, face, space guidance and wash, or sanitise, your hands as often as possible.
You must still adhere to social distancing rules and stay two metres apart from anyone who is not in your household or support or childcare bubble 
Business and activities 
Outdoor sports facilities such as tennis and basketball courts, open-air swimming pools and cricket and football pitches, will be allowed to reopen. People will be able to take part in formally organised outdoor sports, more information is available on the Government website.
If you are unsure as to whether your sport will be allowed to resume, please contact your local organiser or sporting body to find out
Work and travel
People should continue to work from home where they can and minimise the number of journeys where possible, avoiding travel on busy routes or at peak times. You must still only make essential journeys or travel for exercise, food or to meet others at a distance.
It's important to remember that the dates set out by the government are still provisional. It is imperative that you continue to follow the restrictions that are currently in place and the message remains hands, face, space. 
The 'COVID-19 Response - Spring 2021' provides a roadmap out of the current lockdown in England and sets out how the government will continue to protect and support citizens across the UK:
Rutland Update
The Covid-19 restrictions are being lifted find out what you can and can't do  
From 12 April , some of the rules have changed: find out which restrictions will be lifted
Find more local information on Coronavirus
If you have symptoms of coronavirus, please self-isolate and get tested as soon as you can. Find out how to book a test in Rutland.
If you think you might have coronavirus
Symptoms
A high temperature
A new, continuous cough
Loss or change in sense of smell or taste
What to do if you have these symptoms
Do not go to a GP surgery, pharmacy or hospital. You should stay at home and self-isolate.
Only call 111 if you cannot get help online.
You must get a test. Find out more about testing.
If you have problems using the online service, call 119. Lines are open 7am to 11pm.
You feel you cannot cope with your symptoms at home
Your condition gets worse
Your symptoms do not get better after 7 days
Use the NHS 111 coronavirus service
If you do not have internet access, call NHS 111. For a medical emergency dial 999.
For people who are deaf or hard of hearing, the NHS 111 British Sign Language service is available here: https://interpreternow.co.uk/nhs111 or by calling 18001 111 on a textphone.
Read the NHS advice about coronavirus
How to self-isolate if you or someone in your house has coronavirus
If you have symptoms of coronavirus you should stay home and self isolate. What this means is you should not leave your house, even to do shopping, to avoid spreading the virus. Do not go to work, school, or public areas and do not use public transport or taxis.
Your isolation period includes the day the first person in your household's symptoms started (or the day their test was taken if they did not have symptoms, whether this was an LFD or PCR test), and the next 10 full days. 
For more information about when and how to self-isolate and what this means for families visit the Government website.
Read the NHS advice about self-isolation
Coronavirus Information Service on WhatsApp
The Government has made a free to use service is an automated 'chatbot', allowing people to get answers to the most common questions about coronavirus direct from the Government.
Getting tested for Coronavirus (COVID-19)
Guidance on coronavirus testing, including who is eligible for a test, how to get tested and the different types of test available is available on the Government's website.
Face masks - when to wear one
To find out which settings require you to wear a face mask click the link below.
You do not need to wear a face covering if you have a legitimate reason not to. This includes (but is not limited to):
young children under the age of 11 (Public Health England do not recommend face coverings for children under the age of 3 for health and safety reasons)
not being able to put on, wear or remove a face covering because of a physical or mental illness or impairment, or disability
if putting on, wearing or removing a face covering will cause you severe distress
if you are travelling with or providing assistance to someone who relies on lip reading to communicate
to avoid harm or injury, or the risk of harm or injury, to yourself or others
to avoid injury, or to escape a risk of harm, and you do not have a face covering with you
to eat or drink if reasonably necessary
in order to take medication
if a police officer or other official requests you remove your face covering
Coronavirus is affecting my mental health - what can I do?
The Coronavirus pandemic may cause you to feel worried, anxious, or scared.
Read Healthwatch England's seven steps to looking after your wellbeing while staying informed
In recognition of the unprecedented challenges which the outbreak and extended periods of self-isolation can pose, Public Health England has published online guidance setting out principles to follow to help people to manage their mental health during this difficult time, such as:
maintaining contact with friends and family via telephone and video calls, or social media
keeping a regular routine and sleeping pattern
focusing on a hobby or learning something new
Every Mind Matters has released expert advice and top tips on how to look after your mental wellbeing if you need to stay at home during the coronavirus (COVID-19) outbreak. It also includes guidance if you're feeling worried or anxious about the outbreak. 
Public Health England has put together advice for parents and carers on looking after the mental health and wellbeing of children or young people during the coronavirus (COVID-19) outbreak.
Further information
NHS England has produced a list of common questions about coronavirus, covering advice for you and your family, how it's caught and spread, prevention, self-isolation, testing and treatment and foreign travel. 
NHS coronavirus common questions
Other places for information:
Find information about local Rutland services and updates relating to coronavirus
Find advice from other national organisations