Information on Coronavirus
Read the latest advice and information from NHS England and Public Health England about the Coronavirus.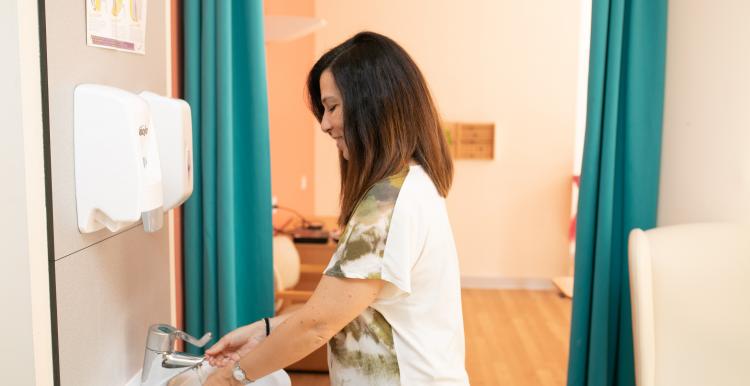 For the most up to date information about COVID-19 be sure to check Gov.uk.
Correct as of 06/07/2020
Stay alert
We can all help control the virus if we all stay alert. This means you must:
Stay at home as much as possible
Work from home if you can
Limit contact with other people
Keep your distance from people not in your household (2 metres apart where possible)
Wash your hands regularly
Do not leave home if you or anyone in your household has symptoms.
Find out more from the Government website
What you can and can't do from 4 July
The government has set out its plan to return life to as near normal as we can, but in a way that continues to protect our communities and our NHS.
Find out more about what you can and can't do including information about travel restrictions, who you're allowed to meet with and what shops and business can now open.
If you do go outside or meet with others, remember that it's still important to social distance.
If you think you might have coronavirus
The most common symptoms of coronavirus (COVID-19) are recent onset of:
new continuous cough and/or
high temperature
loss or change in sense of smell or taste
For most people, coronavirus (COVID-19) will be a mild illness.
What to do if you have coronavirus (COVID-19) symptoms:
Self-isolate and follow the advice on the Government website. 
Do not go to a GP surgery, pharmacy or hospital.
You do not need to contact 111 to tell them you're staying at home.
Read the NHS advice about self-isolation
you feel you cannot cope with your symptoms at home, or
your condition gets worse
your symptoms do not get better after 7 days.
If you do not have internet access, call NHS 111. For a medical emergency dial 999.
For people who are deaf or hard of hearing, the NHS 111 British Sign Language service is available here: https://interpreternow.co.uk/nhs111 or by calling 18001 111 on a textphone.
Use the NHS 111 coronavirus service
Read the NHS advice about coronavirus
How to self-isolate if you or someone in your house has coronavirus
If you have symptoms of coronavirus you should stay home and self isolate. What this means is you should not leave your house, even to do shopping, to avoid spreading the virus.
For more information about when and how to self-isolate and what this means for families visit the Government website. 
Coronavirus Information Service on WhatsApp
The Government has made a new free to use service is an automated 'chatbot', allowing people to get answers to the most common questions about coronavirus direct from the Government.
How to avoid catching or spreading germs
Do:
Cover your mouth and nose with a tissue or your sleeve (not your hands) when you cough or sneeze.

Put used tissues in the bin straight away.

Wash your hands with soap and water often, and for 20 seconds – use hand sanitiser gel if soap and water are not available.

Try to avoid close contact with people who are unwell.
Don't:
Do not touch your eyes, nose or mouth if your hands are not clean.
Hand Hygiene Advice in alternative formats (Easy Read, BSL, Large print, Audio)
Advice for people at high risk
From 6 July:
You may, if you wish, meet in a group of up to 6 people outdoors, including people from different households, while maintaining strict social distancing i.e. stay two metres apart;   
You no longer need to observe social distancing with other members of your household;  
In line with the wider guidance for single adult households (either an adult living alone or only with dependent children under 18) in the general population you can also form a 'support bubble' with one other household. All those in a support bubble will be able to spend time together inside each other's homes, including overnight, without needing to socially distance.  
Find out more about what you can and can't do if you are a 'shielder':
Coronavirus: What does shielding mean? (Healthwatch England)
If you're at high risk (clinically extremely vulnerable) from coronavirus (COVID-19), there are extra steps you're advised to take to protect yourself. These extra steps are called shielding.
From 1 August 2020, people in England who are at high risk from coronavirus will no longer be advised to shield. Find out more:
Government advice on shielding and protecting extremely vulnerable people
NHS information about who's at higher risk from coronavirus?
NHS advice for people at high risk from coronavirus (clinically extremely vulnerable
Read the NHS shielding letter, watch the BSL video or read the FAQ here
What's the difference between social distancing, self-isolation and shielding? (Healthwatch England)
Coronavirus is affecting my mental health - what can I do?
The current Coronavirus pandemic may cause you to feel worried, anxious, or scared.
Read Healthwatch England's seven steps to looking after your wellbeing while staying informed
In recognition of the unprecedented challenges which the outbreak and extended periods of self-isolation can pose, Public Health England has published new online guidance setting out principles to follow to help people to manage their mental health during this difficult time, such as:
maintaining contact with friends and family via telephone and video calls, or social media
keeping a regular routine and sleeping pattern
focusing on a hobby or learning something new
Every Mind Matters has now released expert advice and top tips on how to look after your mental wellbeing if you need to stay at home during the coronavirus (COVID-19) outbreak. It also includes guidance if you're feeling worried or anxious about the outbreak. 
Public Health England has put together advice for parents and carers on looking after the mental health and wellbeing of children or young people during the coronavirus (COVID-19) outbreak.
Further information
The NHS website has lots of information about coronavirus, covering advice for you and your family, how it's caught and spread, prevention, self-isolation, testing and treatment and foreign travel. 
Other places for information:
Easy Read information about coronavirus and self-isolation
Find information about local Rutland services and updates relating to coronavirus
Find advice from other national organisations