How people with long term or multiple conditions experience care in Rutland GP surgeries
We have been interviewing people in Rutland with long term or multiple health conditions in order to understand their experiences of care at their GP surgery.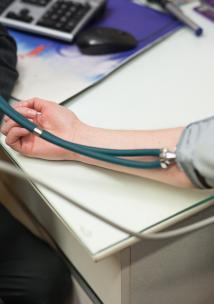 July 2019 saw the establishment of Primary Care Networks (PCN) that group GP surgeries together to look after local populations of 30,000-50,000 people. Within the PCN, surgeries can collaborate with each other, sharing resources and the expertise of specialised clinicians whilst retaining their own patient lists. We wanted to find out, in some detail, what is working well and not so well in Rutland surgeries, and also to gain understanding of what people think about seeing a broader range of specialised clinicians as the PCN's multi-disciplinary teams develop.
The majority of the interviews were conducted in February and March 2020 before the Coronavirus pandemic lockdown measures were put in place and thus reflect pre-COVID-19 access protocols and practices.
Many participants spoke very positively about their experiences, feeling that they had been listened to, reassured and given effective care by a clinician with appropriate expertise. Some highlighted difficulties within the surgery buildings such as navigating automated check-in machines and feeling embarrassed by lack of privacy in some reception and pharmacy areas. Several interviewees felt the need to monitor and intervene in referral procedures when they perceived poor communication processes between the GP surgery and specialists.
Many respondents with long term or multiple health conditions told us that they are happy to be seen by different professionals at the surgery for different aspects of healthcare, so long as those professionals have the appropriate expertise. Equally, many prefer to see the same clinician each time, feeling that the doctor gets to know their conditions and medical history. Clearly, people with complex care needs want to be treated as individuals and a 'whole person'. In order to improve clinical outcomes, the relationship between 'patient' and 'practice' must be managed sensitively and seamlessly. 
"This project, developed by Healthwatch volunteers, has provided valuable insight into how Rutland people experience their local surgeries. We hope it will be a useful tool for surgery staff and community services as they plan and deliver services for Rutland. We would like to thank all those people who were involved: Healthwatch Rutland staff and volunteers, those who told us about their experiences and Dr. Hilary Fox, Clinical Director of the Rutland Health Primary Care Network" 
"Thank you to all those who gave their time to produce this insightful report, which will help Rutland Primary Care Network to develop its practices."
What is your experience of using GP services in Rutland?