New three year strategy and workplan for 2018-21
We have set our new strategy and workplan for 2018-21. Our vision is to be a strong, resolute and independent community champion.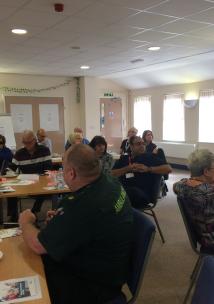 We will ensure that the views and experiences of Rutland residents are known by service providers and commissioners and work in partnership to influence the design and quality of health and social care provision.
Our values:
We will be accessible and visible 
We will be independent and objective
We will be open, honest and transparent in all that we do 
We will be inclusive and embrace diversity and equality, reflecting the diverse needs of local people
We will listen to and understand the views and needs of local people
We will speak up for local people and enable people to speak for themselves
We will be fair and credible
We will seek out and use evidence, including from the public, to inform our work
We will strive to make a positive difference to health and social care for local people
Our three year strategy is regularly reviewed to respond to external developments and challenges, and will be reformulated when the Healthwatch Rutland contract is reviewed in April 2021. 
Our workplan is a living document that is modified according to the demands on Healthwatch and the resources we have to undertake the work. The activities in the workplan are monitored and agreed in our Operations and Planning Group meetings that run every other month at our offices in Oakham: