Enter and View report - Chater Lodge Care Home Nov 2017
Part of our local Healthwatch programme is to carry out Enter and View visits. Healthwatch Rutland authorised representatives carry out these visits to health and social care services to find out how they are being run and make recommendations.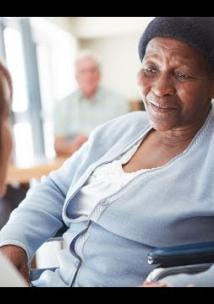 Summary
In 2016 we commenced a programme of visits to all Care Homes in Rutland, to look at the quality of life of residents. The visit to Chater Lodge Care Home on 10 November 2017 was part of this series of visits.
Summary of findings:
Chater Lodge care home is part of the Barchester Group and has a specialist dementia unit. It is not a nursing home.
The kitchen has just been renewed and major upgrade of communal areas is planned for early 2018.
All residents' rooms have toilet and wash basin en suite. Shower and bathing facilities are shared.
The Barchester Group, owners of the home, provide a range of induction and staff development opportunities that were spoken of highly.
The manager also commended the support available to her and the Barchester Group system for determining staffing levels.
The home spoke highly of GP support but expressed concern about dental care, the supply of specialist equipment and access to physiotherapy and occupational therapy services.